A closer look at Summer Soiree
Thursday, October 17, 2013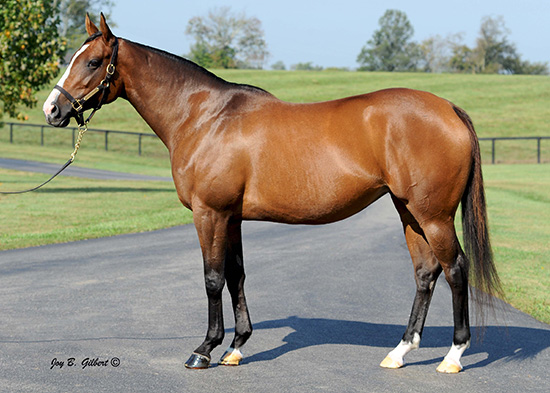 Click here to view Summer Soiree's pedigree.
By: Andrew Caufield
When Hip No. 244 comes under the hammer at Keeneland on November 6, the world's leading breeders will have the unique opportunity of buying the best daughter of War Front, arguably the hottest stallion in America. This GI-winning daughter, the five-year-old Summer Soiree, is in foal to Medaglia d'Oro, another of America's most accomplished young sires.
SUMMER SOIREE'S RACING RECORD
War Front owes his universal appeal partly to the fact that – like his sire Danzig before him – he has proved his ability to sire stakes winners on different surfaces in the U.S. and Europe.
Summer Soiree embodied this versatility in a career which saw her win firstly on dirt, then on all-weather and finally on turf, scoring both on good ground and firm. This adaptability underlines her potential to shine as a broodmare in the U.S., Europe, Japan or Australia.
Although she won at two, Summer Soiree was at her very best as a three-year-old, when her record stood at four wins and a second from seven starts. After winning a nine-furlong allowance by nearly ten lengths, she made her Graded stakes debut in the GIII Bourbonette Oaks over a mile in late-March and romped home nearly 11 lengths clear.
She broke like a shot, the TDN reported, and was hard held on the lead through fractions of :24.84 and :48.42 before drawing clear in the stretch to win for fun.
"This filly has a nice turn of foot," trainer Larry Jones commented. "These War Fronts are running really well."
Summer Soiree posted another wide margin win three months later, when she tried turf for the first time in the GIII Boiling Springs S. over a mile and a sixteenth at Monmouth. Her speed was again very evident as she led through a comfortable half in :48.58 and six furlongs in 1:12.12. She was at her most impressive in the stretch, as she powered further and further ahead to score by eight and a half lengths.
"She's a very talented filly, and today was a very impressive performance," was the verdict of her new trainer Graham Motion. Winning rider Gabriel Saez agreed. "That was really something. She's something special."
Del Mar was the next stop for the War Front filly, for the GI Del Mar Oaks over a mile and an eighth. Summer Soiree's tactical speed was again in evidence. Taking the lead down the backstretch, she build a commanding lead in passing the six-furlong pole in a swift 1:10.22 and she held on courageously to gain her first GI success.
"I knew we were going a little quick early," admitted Gabriel Saez, "but she was comfortable. She handled it all well; she liked the turf. When we went to the second turn, I said it was time to go. That was the plan. I wanted to put some lengths between me and the others. She picked it right up."
She later failed by only half a length to add a second GI victory in the prestigious Matriarch S. at Hollywood Park, leading every step until the final 20 yards. Summer Soiree was also a creditable third in the following year's Matriarch, when making the last of her 16 starts.
SUMMER SOIREE AS A BROODMARE

In an industry where the gene pool appears to be shrinking, breeders are bound to appreciate the fact that Summer Soiree has no duplications in the first five generations of her pedigree. This will allow her access to many of the world's leading stallions. There are also elements in her pedigree which suggest strongly that Summer Soiree would be an ideal match for several of these top international stallions.
In the notes on her female line, it is explained how her second dam, Flying Honors, is bred along similar lines to the exceptional producer Magnificient Style. This daughter of Silver Hawk produced six Group winners, including three to Sadler's Wells and two to GALILEO. These Group winners by Galileo were Nathaniel, winner of the King George VI and Queen Elizabeth S. and Eclipse S., and his Irish Oaks-winning sister Great Heavens. Magnificient Style was by no means the only daughter of Silver Hawk to have shone with Galileo. This nick's figures stand at 11 foals, nine winners and five black-type winners, another being Seville, an Irish Derby second who recently won the G1 Metropolitan H. in Australia.
The fact that Summer Soiree's sire War Front was a fast son of Danzig is another indicator that she could be ideal for Galileo. The Coolmore champion has excelled with daughters of Danehill and Green Desert, two other fast sons of Danzig. Galileo's long list of top winners out of Danehill mares include the brilliant Frankel, the champion two-year-old Teofilo and the classic winners Intello and Golden Lilac. It was a Green Desert mare which produced his Epsom Oaks winner Was and Was's sister which set a new record for a yearling filly when she recently sold for 5,000,000gns.
Summer Soiree could also suit Galileo's outstanding sons. NEW APPROACH sired Dawn Approach, a champion two-year-old and winner of the 2,000 Guineas, from a mare by Phone Trick, who is also the grandsire of Summer Soiree's dam.
FRANKEL is also a very likeable match for Summer Soiree, as she would reinforce the Danzig influence in his pedigree by producing 4 x 3 inbreeding.
DUBAWI is another outstanding European stallion who is likely to excel with Summer Soiree. His record with Green Desert mares stands at six stakes winners from 19 foals – a tremendous 32 per cent. They include the top miler Makfi and Al Thakhira, who was so impressive in winning a recent G2 that she is probably heading to the Breeders' Cup. Dubawi would create only 5 x 4 to Northern Dancer and 5 x 5 to Roberto.
Galileo's exceptional half-brother SEA THE STARS is another European option, this time producing 4 x 3 to Danzig.
Summer Soiree's affinity for fast American turf courses suggests she could also be ideal for some of Japan's leading stallions. The tremendously successful DEEP IMPACT has already sired the Japanese Horse of the Year Gentildonna from another G1-winning daughter of a fast Danzig stallion.
Summer Soiree would also have numerous attraction options were she to remain in the U.S. It was another mare whose pedigree combined Danzig and Clever Trick who produced the dual champion Lookin At Lucky to SMART STRIKE, who has excelled with Danzig line mares. TIZNOW, SPEIGHTSTOWN and STREET CRY respectively sired the GI winners Tizway, Jersey Town and Here Comes Ben from other grand-daughters of Danzig.
And then there's the option of a return visit to her first mate, Rachel Alexandra's sire MEDAGLIA D'ORO. The foal Summer Soiree is carrying could develop into a top performer in the U.S., Europe or Asia, as the Darley stallion has already sired Graded/Group winners on each of these continents. His progeny also win on dirt, turf and all-weather.
In France he has sired a winner of the G1 Criterium de Saint-Cloud and he was recently represented by a possible classic contender for 2014 in the shape of Earnshaw, an unbeaten winner of the G3 Prix Thomas Bryon. He has Graded winners out of mares by two other sons of Danzig and also sired this year's smart three-year-old Rydilluc from a Clever Trick mare.
SUMMER SOIREE'S FEMALE LINE
It is appropriate that Summer Soiree has Claiborne stallions as her sire and grandsire, as she comes from a female line which enjoyed spectacular success for Claiborne. Her sixth dam, Levee, was one of three top-class racemares bred in consecutive years by Claiborne from the blue hen Bourtai.
Delta, the first of the three, ranked second among the fillies on the 1954 Experimental Free Handicap. Next came Levee, who was rated the second-best three-year-old filly of 1956 following victories in the Monmouth Oaks, Coaching Club American Oaks and Beldame H.. The trio was completed by Levee's sister Bayou, who became the champion three-year-old filly of 1957, thanks to successes in the Acorn S., Delaware Oaks and Gazelle H.
But that wasn't the end to these fillies' achievements. Delta became Kentucky Broodmare of the Year in 1968 and Levee followed her example two years later. In fact Delta, Levee and Bayou all developed flourishing branches of the family, as did their half-sister Banta.
Levee hit the jackpot with her first daughter, the tough and smart Nalee, and Nalee's sister Shuvee did even better, developing into a major winner every year from two to five, in addition to becoming the champion older mare of 1970 and 1971.
Nalee is the fifth dam of Summer Soiree and it is this daughter of Nashua who was largely responsible for the development of the Levee family. She had seven black-type performers to her credit, including the Irish St Leger winner Meneval, and one of her daughters produced Sacahuista, winner of the 1987 Breeders' Cup Distaff. Another notable from the family was the triple GI winner Raging Fever.
One of Delta's greatest achievements was to become the third dam of another blue hen in Magnificient Style. The six Group winners out of this extraordinary Silver Hawk mare included three G1 winners and a colt who missed second place in the Epsom Derby by only a couple of heads. Magnificient Style's daughters have sold for such sums as $10,500,000 and $4,200,000.
It is essential to remember that Summer Soiree's second dam, Flying Honors, is bred along very similar lines to Magnificient Style. This brilliant producer has Silver Hawk as her sire and also has a grand-daughter of Ribot as her second dam, in addition to having Bourtai as her fourth dam. Flying Honors is also by the excellent Silver Hawk and she too has a grand-daughter of Ribot as her second dam, in addition to having Bourtai as her fifth dam.
The main element in Magnificient Style's pedigree which is missing from Flying Color's is her broodmare sire Icecapade. However, Flying Honors was sent to Mazel Trick, a member of the Icecapade male line, to produce Summer Soiree's winning dam Mazel Tov.
SUMMER SOIREE'S SIRE WAR FRONT
War Front's status as America's hottest stallion – and the one with arguably the greatest international appeal – has been amply confirmed in recent weeks. Claiborne announced that he will stand the 2014 season at $150,000 – a tenfold increase on the fee he commanded as recently as 2011.
This spectacular rise has been fuelled by four crops of racing age which were sired at fees no higher than $12,500. Although these crops contain fewer than 240 named foals, War Front notched up his 25th stakes winner in a major country when his two-year-old Irish son Giovanni Boldini impressively won the Star Appeal S. on October 11. Very few stallions in today's industry can claim over ten per cent stakes winners.
Then, a day later, War Front's son War Command added the G1 Dewhurst S. to his earlier wide-margin victory in Royal Ascot's G2 Coventry S., in the process emulating the future classic winners Mill Reef and Dawn Approach. War Command is War Front's fifth GI winner from four crops. In addition to Summer Soiree, he follows in the footsteps of Declaration of War (G1 Queen Anne S. and G1 Juddmonte International), The Factor (GI Malibu S. and GI Pat O'Brien S.), Data Link (GI Maker's 46 Mile S.) and Summer Soiree.
Altogether the stallion's total of Group/Graded winners stands at 14, which equates to nearly 6 per cent – another hallmark of an exceptional stallion.
War Front is versatile in several ways. His 14 Graded winner have 13 different broodmare sires. And his progeny are winning important races on all surfaces. Of his progeny's GI wins, The Factor gained his on dirt and all-weather, Data Link won on fast American turf and both Declaration of War and War Command are European turf performers. Declaration of War, though, is also a Group winner on all-weather, as is War Front's G2 UAE Derby winner Lines of Battle.
The very talented Soldat shone on turf at two but then landed the GII Fountain of Youth S. on dirt, while dirt is the preferred surface for the multiple 2013 Graded stakes winner Departing (GII Super Derby, etc). These are balanced by the turf Graded stakes winners War Dancer, State of Play, Peace Preserver, Summer Front, Jack Milton and the 2013 two-year-old Bashart. In addition, War Front has also sired three winners of the Star Appeal S. on all-weather in Ireland.
Another measure of War Front's potential is his lifetime Average Earnings Index of 2.68. This puts him in first place on the Blood-Horse's table of leading sires by AEI, ahead of the likes of Empire Maker, Smart Strike, Awesome Again, Distorted Humor, Tapit, Street Cry, Speightstown and Medaglia d'Oro.
This AEI of 2.68 is made all the more meritorious by the fact that it was achieved with mares whose Comparable Index with other stallions (CI) stood no higher than 1.78. No other stallion in the top ten had a CI lower than 2.00.
War Front's remarkable development into a world-class stallion has been mirrored by impressive results in the sales ring. Although his 2013 yearlings were sired at a fee of only $15,000, they have achieved an average of $385,000 and a median of $305,000, with individuals selling for $2,500,000 and $1,000,000 to the Coolmore camp.
The scene has been set for War Front to develop into a worthy heir to his magnificent sire Danzig. And the fact that he has a growing number of high-class sons retiring to stud suggests that he will prove as important in shaping the breed as two of Danzig's other fast sons, Danehill and Green Desert, have been on other continents.