Denali Stud Consigns Twelve for Historic Saratoga Sale
Friday, August 06, 2021
Fasig-Tipton is celebrating "The Sale of a Century" in 2021 when the Saratoga Sale returns to its historic stomping ground. Denali Stud is fortunate to consign twelve yearlings as part of what promises to be an incredibly special auction, and a unique opportunity for buyers to purchase some of the best bred yearlings in the country. Below is an overview of our offerings this year:
HIP 21 (Into Mischief x Vertical Vision)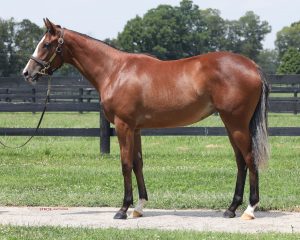 This February filly by America's premier sire, Into Mischief, is out of a stakes winning Pollard's Vision mare. Vertical Vision has four to make it to the races with Vertical Oak (Giant Oak) her best runner thus far with nine wins (seven in stakes or graded stakes company) to her credit; her best results being victories in the Gr. II Prioress Stakes and Gr. III Adena Springs Miss Preakness Stakes. Vertical Vision's other winners include Payne (g. by Paynter, winner of over $274,000), Zion (c. by Half Ours), and Yamamoto (c. by Giant Oak).
HIP 26 (Flatter x Whisper to Me)
A March colt by Flatter, and out of a stakes winning and producing mare, Whisper to Me. The dam has six foals to race, all of them are winners, which includes MGSW Overheard (f. by Macho Uno) with well over $540,000 to her credit. Further down the page, champion Chief's Crown makes an appearance as well as Royal Dragon, the granddam of champion Deep Sky.
HIP 51 (Ghostzapper x Beyond Blame)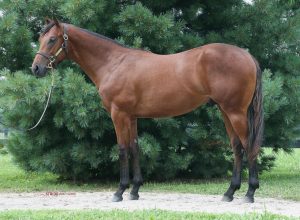 A March colt by the sire of horses like Shaman Ghost, Mystic Guide, and several Breeders' Cup champions, and out of a graded stakes-winning mare, Beyond Blame. There are graded stakes winners down his page through to the fourth dam, Blushing Ogygian, including Bellera and Life Imitates Art. This is the family of Street Boss.
HIP 61 (Tapit x Checkupfromzneckup)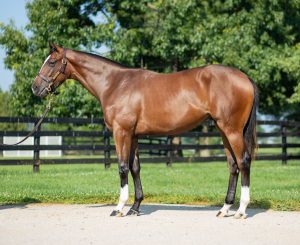 You don't have to think hard to come up with good horses by Tapit, and this filly comes with a fabulous female family as well. A late March filly by the sire of sires, the sire of champions such as Stardom Bound, Testa Matta, and Untapable. There is black-type up and down her page including Lassie Connection (Seattle Slew) as the third dam. She is a half-sister to Weekend Surprise. Checkupfromzneckup is a stakes placed mare in her own right with a promising 3YO filly by the name of Carribean Caper (Speightstown), who is undefeated in three lifetime starts.
HIP 70 (Uncle Mo x Covenant)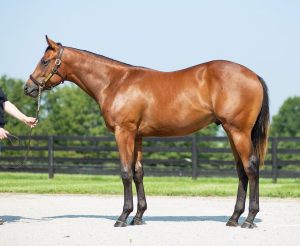 A strong colt from a racehorse family, this is Covenant's second foal. This is the family of Flaming Heart, a graded stakes-placed mare who's produced two sires, Commissioner and Laugh Track, and the tough Gr. III placed gelding, Intrepid Heart, who has won over $300,000 in his career. She also produced the dam of Breeders' Cup Classic champion, Vino Rosso. With Uncle Mo on top, a sire of sires and a prominent influence on the breed, HIP 70 was bred with success in mind.
HIP 76 (Gun Runner x Dayfa)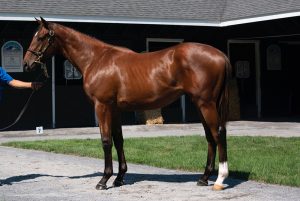 A March colt with an incredible page, this is a son of the rapidly improving sire, Gun Runner. His first crop has fast made a name for him as the next big stallion to hit the market. HIP 76 is the first foal out of a young Tiznow mare, Dayfa. The second dam, Dance Quietly, earned black-type early in her career and currently has three winners, two of which recently increased their earnings. The third dam is Quiet Dance, one of the best mares in the stud book. Producing 12 winners, she is the dam of the late Saint Liam, Funtastic, Congressionalhonor, and American Dance, all sires.
HIP 82 (Uncle Mo x Dreaming of You)
Dreaming of Mo, a beautiful January filly by Uncle Mo and out of Dreaming of You, is another with an incredibly successful female family. The first foal out of an unraced Pioneerof the Nile mare, she gets the benefit of an accomplished second dam, General Jeanne. GIISP Justwhistledixie, Dreaming of You's half sister by Dixie Union, produced five winners and two sires: New Years Day (Maximum Security to his credit) and Mohaymen (currently #11 first crop sire). There's black-type all over her page, and she's got the physical.
HIP 119 (Bolt d'Oro x I Think So)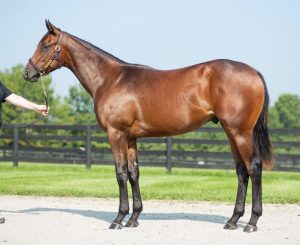 We sold his sire, and now Denali has the privilege of selling a son who could be his clone. HIP 119 by Bolt d'Oro, and out of I Think So, has the looks of a nice horse. As an added bonus, this is the family of GISP Emotional Kitten, SW Unspoken Word, and Group 1/Graded Stakes placed runner, Cannonball. The dam, I Think So, was a stakes runner in Canada and the US before retiring just short of hitting $175,000 in earnings. She has two of racing age with one, Fashion Icon (f. by Kitten's Joy), earning additional money since the catalog was printed.
HIP 129 (Union Rags x Leslie's Harmony)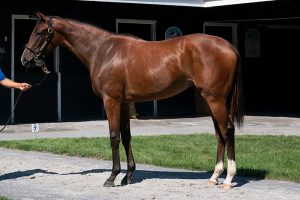 You couldn't find a more active family if you tried: a late April filly by Union Rags out of Leslie's Harmony. If you're wondering, yes, it is THAT Leslie as the second dam. You don't find fillies with a Broodmare of the Year on their page up for sale often, so this is a rare opportunity to get your piece of a historic family which includes: MGIW, four-time champion mare Beholder; GIW Mendelssohn (sire at Coolmore); perennial leading sire, Into Mischief; Sarah Her Highness, a producing granddaughter, and several other black-type earning and/or producing horses. If you came to Saratoga looking for royalty, you found her.
HIP 163 (Candy Ride (ARG) x Night and Day)
This chestnut colt by Candy Ride (ARG) is out of Night and Day (by Unbridled's Song), a daughter of the great Serena's Song. Night and Day has GII stakes winner Made You Look to her credit, who has increased his earnings again to just shy of $500,000 and an eight-time winner in Japan, Tokyo Sabaku. Candy Ride (ARG) has had many talented runners over the years including Gun Runner, Shared Belief, Game Winner, Vekoma, Mastery, and the list goes on. This is a racehorse pedigree.
HIP 200 (Quality Road x Song of Bernadette)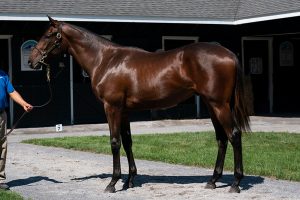 A late April half-brother to new Claiborne sire Catholic Boy, this colt by Quality Road is a must-see! Song of Bernadette (by Bernardini) has had two foals make it to the track and both were winners, including the aforementioned Catholic Boy, a GI winner on turf and dirt with one of his most memorable wins coming at Saratoga in the Travers. Going down the page, the second dam Winner's Edge is a stakes placed producer of nine winners; three of her daughters went on to become producers as well. Black-type is a family tradition, and with Quality Road throwing horses like City of Light and Roadster along with eight stakes winning or placed colts in 2021 (three of which are out of Bernardini mares), this yearling doesn't look to buck the trend.
HIP 209 (City of Light x Swingit)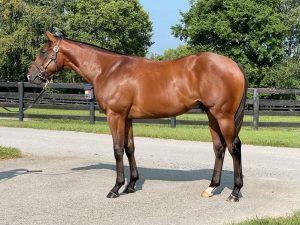 If you watched the 2021 Kentucky Oaks trail, you'll have seen this colt's flashy half-sister, Travel Column. As a mid-May foal, this guy has plenty of room to grow and is a sterling representative of his sire's first crop, which are yearlings of 2021. City of Light is an imposing son of Quality Road who made his name by winning the Breeders' Cup Dirt Mile and the Pegasus World Cup Invitational. Swingit is a stakes winning mare who has already proven her prowess as a broodmare with seven of racing age, five winners, and three making more than $100,000 in their career. She is a half-sister to stakes winner Singit, the dam of an eleven time winner.
We're very fortunate to represent some of the best breeders in the country and we're honored that they've placed their trust in us to sell some of their nicest yearlings.
We will be at Barn 7A for the sale.