Mundaye Call Sets Track Record in Audubon Oaks Victory
Tuesday, August 11, 2020
Excerpt from DRF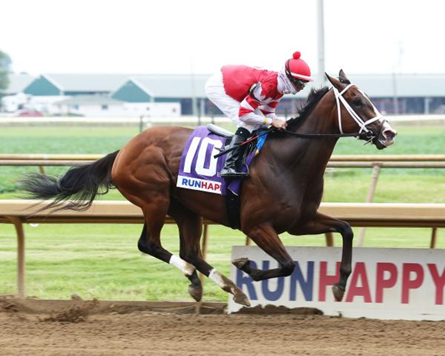 Mundaye Call broke the track record in leading every step Sunday in the seven-furlong Runhappy Audubon Oaks at Ellis Park, and although the filly earned 10 qualifying points toward the Kentucky Oaks, trainer Brad Cox seemed inclined to set his sights a little lower – for the time being anyway.
"That'd be asking a lot," Cox said.
Instead, Cox was relishing the thought that Mundaye Call might follow in the hoofsteps of Covfefe, the brilliant filly who was retired not long after winning the Breeders' Cup Filly and Mare Sprint last fall as a 3-year-old. Both Covfefe and Mundaye Call were sired by Into Mischief, and now both are track-record holders.
"She's a big, strong filly by the right sire," Cox said. "She's fast. She showed that today, breaking the track record. She's never been around two turns and she's still lightly raced. We're still trying to figure her out a little bit."
Ridden by Florent Geroux, Mundaye Call broke very swiftly from post 10 in a field of 11 3-year-old fillies in the $100,000 Audubon Oaks, a 10-4-2-1 qualifier toward the Sept. 4 Kentucky Oaks at Churchill Downs. Geroux never asked her for too much run thereafter, as she breezed to a 7 1/4-length triumph in 1:21.17, breaking the 2004 mark of 1:21.37. The winner paid $6.40 as the second choice with her third win, and first in a stakes, from five overall starts.
Mundaye Call is owned by the OXO Equine of Larry Best. She raced twice for Don Chatlos before Cox assumed her training this spring. Her only prior start for Cox resulted in a 2 3/4-length allowance win at Keeneland last month.
Congrats to our Denali Sales Grad and to all of her connections!